Share Information
Share information
If you have any information to share that will help us protect your local community, please fill in the form below and submit.  Selling illegal tobacco is a criminal offence.

You can also report the selling of illegal tobacco anonymously by calling the illegal tobacco hotline on 0300 999 6 999.
When you click "submit" the information is sent anonymously to our Regional Intelligence Unit which works with local agencies including Trading Standards and Public Health teams to tackle this issue of illegal tobacco.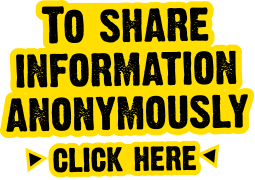 Illegal Tobacco
- The Real Cost
Far from being a victimless crime, the illegal tobacco trade makes it easier for children to start smoking, takes advantage of cash-strapped families, and helps fund organised crime.
In February 2011 a range of organisations in the South West of England, including those in health and enforcement sectors, turned their focus to illegal tobacco and have been working collaboratively as part of an ongoing programme to stamp it out.
We have been speaking to members of the public, as well as the experts, to discover the real cost of illegal tobacco. Hear what they have to say in this four minute video.